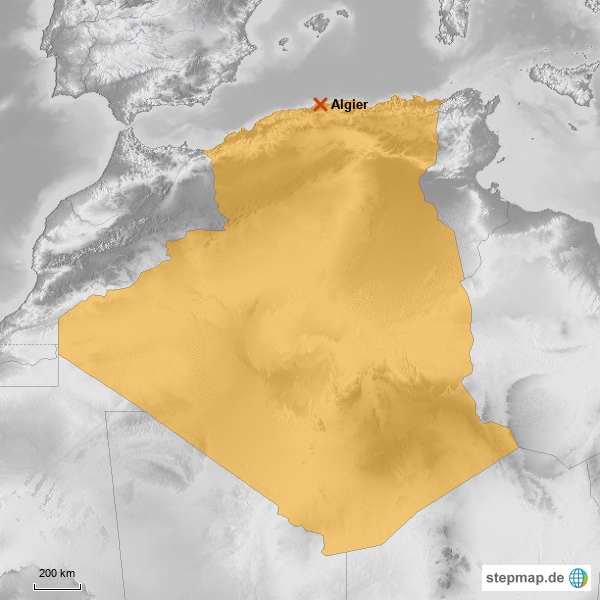 Top 10 Destinations in Algeria
Come and explore Algeria and be mesmerized by its hidden wonders
Algeria, which is formally acclaimed as the People's Democratic Republic of Algeria, is the largest country among African nations and is bordered by Tunisia, Morocco, Libya and Mali, along with the Mediterranean coast. Algeria was once home to various empires which left huge influence to the country's culture and characteristics.
With an ideal blend of colonial and modern architecture, this African country is truly one of the most mesmerizing places to visit. Algeria is also surrounded by alluring beaches and exciting gorges and mountains, which add excitement to its visitors. Since this country is full of wonders to explore, here are ten of the most visited places in Algeria.
Algiers
Algiers, also known as "Alger la Blanche" or Algiers the White, is the stunning capital of Algeria. Its French-influenced architecture is one of the attractions in this destination. Algiers is surrounded by villas, buildings and monuments which presents a refined ambiance of culturally sophisticated look. In addition, the solemnity of the Islamic culture is another vantage point while visiting Algiers. This destination may be one of the unusual places to visit, but its beauty and character make the trip worthwhile.
Timimoun
Situated within the Sahara Desert, Timimoun is surrounded by breathtaking views of soaring restless sand dunes that are also not far from the lake. Apart from the amazing view of its natural wonder, this destination also boasts of its colonial architectures and its red mud buildings. One of the best examples of its sophisticated architecture is the Hotel de l'Oasis Rouge, which complements the natural beauty of the small town of Timimoun.
Oran
Oran is a coastal town in Algeria which plays an important role to sea transportation. It also plays an important role in Algeria because of its industrial, cultural and commercial activities. This destination showcases rarely visited natural wonders like beaches and coral reefs and other works of nature, but Oran's café-lined boulevard attracts people, especially after a long day of city-walks and exploration.
Annaba
Annaba's major product are minerals and it plays a huge part in transporting and importing goods to different destinations as the major port is located in this Algerian region. Annaba is also one of the historic places in Africa and this is where Saint Augustine spent his last days. The Basilica of Saint Augustine is considered as the most visited place in this destination because of its contribution to the region's wealthy history. Since Algeria in general shows huge influence of French culture, Annaba can be considered as the place where French-era is highly evident.
Constantine
Constantine, which is oftentimes called as the City of Bridges because of its stunning and breathtaking bridges across the town, is also tagged as a fantastic and beautiful city by some travel enthusiasts. This destination was also called as one of the greatest representation of natural beauty that was enhanced by men. Constantine may appear to be a cosmopolitan and modern town with its colonial architectures, but its natural beauty still gives awe-inspiring scenery to its audience.
Ghardaia
Ghardaia is tourists' final stop before the world-renowned Sahara Desert and it is the capital of its neighboring towns, Melika, El Ateuf, Bou Noura and Beni Isguen. This destination was founded by Mozabites more than nine hundred years ago. Ghardaia's main attractions are the colonial architectures such as the pyramid-style mosque and its uniquely interesting red, pink and white clay buildings and houses.
Tlemcen
With Moorish structures that are said to be comparable to those in Andalusia and Morocco, Tlemcen is also known as the town of cherries in Algeria. Tlemcen is one of the most recommended places to visit in Algeria because of its inviting natural beauty such as mountains and plains as well as its historically significant architectures. Some of the most visited landmarks in this destination are the Sidi Boumediene tomb and the Grand Mosque of Tlemcen.
Tipasa (Tipaza)
The UNESCO World Heritage Site Tipasa, or nowadays known as Tipaza, is famous for its breathtaking ruins which came from different eras. This town is one of the most visited places in Algeria because of its alluring sandy coastline and its historical ruins. The Roman ruins are the most important tourist destination in Tipaza as well as the Tipaza Longwave mast, which is said to be one of the tallest structures in Algeria.
Al Qal'a of Beni Hammad
Known as the center of trade and politics during the era of Hammadid emirs, Al Qal'a of Beni Hammad is a famous representation of the ancient story of Algeria. This destination is situated in the mountains approximately two hundred kilometers from Algiers. UNESCO noted this destination as the authentic representation of a fortified Muslim city, while one of the main attractions in Al Qal'a of Beni Hammad is the large mosque. The famous large mosque has 13 aisles and eight bays which makes it one of the largest mosques in Algeria.
M'zab Valley
Comprised of five ksours or walled villages named Ghardaia, M'zab Valley is a perfectly preserved and maintained ancient town in Algeria. This destination is listed as a UNESCO World Heritage site in 1982 as the culture of its natives has been preserved despite globalization and growth. M'zab Valley is famous for its five fortified towns or Pentapolis and historical structures, which will truly awe its visitors.
Casbah of Algiers (Kasbah of Algiers)
Casbah or Kasbah is generally pertaining to walled citadels, specifically used in most North African regions. Casbah of Algiers is surrounded by Ottoman inspired palaces where visitors can explore along with white-stone houses and buildings around the maze-like cobblestone alleys. Its well-preserved culture and traditions makes it one of the must-sees in Algeria.