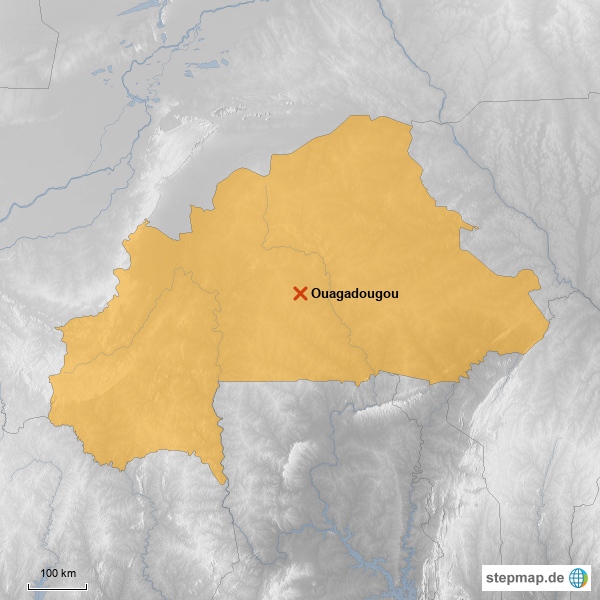 Top 10 Destinations in Burkina Faso
Visit the hidden wonders of Burkina Faso and be surprised with what this West African country can offer
Burkina Faso – a landlocked country surrounded by Ghana, Mali, Togo, Benin, Cote d'Ivoire and Niger - is considered as one of the safest and welcoming places in Africa. This destination is situated in West Africa and was once officially known as the Republic of Upper Volta by the French during the old times until 1984, where it was named Burkina Faso. This West African country may not be one of the most recommended places to visit but its stunning beauty will captivate its visitors.
Ouagadougou
Ouagadougou, which is the largest city in the country and also the capital of Burkina Faso, is the economic, commercial and cultural center of the country. Although this destination does not offer anything spectacular like most countries do, Ouagadougou, or simply Ouaga, has interesting sights like parks and cultural centers. Ouaga is where one of the largest markets in West Africa can be found.
Bobo-Dioulasso
Bobo-Dioulasso, which the city name is translated as the 'home of the Bobo-Dioula' and the second largest city in Burkina Faso, is the country's center of music and culture. Inhabited by one of the world's friendliest and hospitable people, this destination showcase colonial architecture and historic buildings along with tree-lined pavements. Bobo-Dioulasso is an ideal place for city walks to see the historical town, plus it offers vibrant night life with its decent restaurants and exciting music events.
Ruins of Loropéni
This historical heritage is the first entry of Burkina Faso to UNESCO World Heritage Sites list, wherein Ruins of Loropeni was acknowledged in 2009. This destination is surrounded by ancient stone walls with fortresses that may have been built around the 11th century and was inhabited by Lohron or Kulango natives between 14th and 17th centuries. Ruins of Loropeni are still ongoing exploration and can possibly reveal interesting facts about the country or Africa as a whole.
Gorom Gorom Market
Famously known as the Thursday market situated in the northern part of Burkina Faso, Gorom Gorom Market is one of the main attractions in this West African country. This destination also showcases several mosques, and the market persuades traders from different groups such as Fula, Tuaregs and Bellas. Gorom Gorom Market is said to be one of the must-visit places in Burkina Faso because of the local handcrafts that are being sold here and other interesting local products.
Banfora
Often compared to Bobo as they have similarities when it comes to characteristics, it's just that Banfora is the greater version of Bobo and it is the fourth most populated city in Burkina Faso. The famous landmark in this destination is the Banfora Cascades or Cascades de Karfiguéla as it showcases series of waterfalls. The Banfora Cascades is where tourists can enjoy the beautiful view of nature while camping or having picnic with friends and family.
Arli National Park
Sharing borders with Benin's Pendjari National Park and Singou Reserve in the west, Arli National Park is simply called as Arly by locals. The wildlife in this destination includes elephants, buffalos, bushbuck, hartebeest, antelopes and monkeys. Arly is a woodland savanna with luscious grasslands where other animals are seen such as boars, lions and red and green monkeys.
W National Park
A transnational UNESCO World Biosphere Reserve, W National Park is jointly managed by three African nations namely Benin, Niger and Burkina Faso. This destination is famous for its large wildlife such as bush elephants, African leopards, cheetahs, warthogs buffalos and also abundant birdlife. W National Park is home to wildlife animals that is about to be endangered and rare species.
Nazinga Reserve
Nazinga Reserve, which is one of the most visited natural reserves in Africa, is situated in the southern part of Burkina Faso. Highlights of this destination include abundant wildlife animals like roan antelopes, elephants, warthogs, hyenas and baboons. Nazinga Reserve is also known for its more than 250 species of birds such as herons, Hornbills and hawks.
Bangr Weogo Park
Found in the center of Burkina Faso's capital city Ouagadougou, Bangr Weogo Park is a vast urban park packed with several species of animals and plants. This destination is home to various species of animals like crocodiles, squirrels and monkeys as well as antelopes and several species of birds. Bangr Weogo Park also offer cozy restaurants and cafés, while children and family can also enjoy seeing artifacts in the museum inside the park.
Sindou
A town found in Burkina Faso's Leraba province, Sindou is an ordinary welcoming town that serves rice meals along the road and food stalls. The top most reason why tourists are attracted to visit this destination is the amazingly created Sindou Peaks, which showcase picturesque view of landscapes. The Sindou Peaks presents naturally created cones that were molded magically by nature over the years. Also, village tours are recommended in paying a visit to this simple town in Burkina Faso.