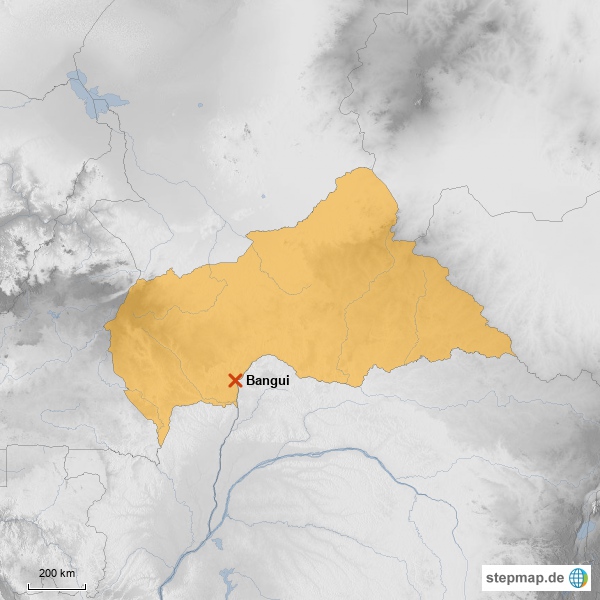 Top 10 Destinations in Central African Republic
The unexpectedly beautiful gem found in the heart of the African continent – Central African Republic
Central African Republic is a landlocked country surrounded by South Sudan, Cameroon, Sudan, Democratic Republic of the Congo, Chad and Republic of the Congo. This central African country boasts of its amazing wonders of nature, which is why it has reputation to be one of the continents best places to visit. Central African Republic, or simply CAR, has abundant wildlife and fascinating scenes of greenery.
Zinga
With its diverse wildlife and amazing natural beauty, Zinga was included in UNESCO World Heritage Site's tentative list in 2006. This destination is filled with captivating wonders of nature such as abundant wildlife including gorillas and elephants. Zinga offers an authentic African safari experience to its visitors because of its exciting and interesting deserts.
Bangui
Bangui, which is the largest and the capital city of Central African Republic (CAR), is found in the northern portion of the Ubangi River. Top attractions in this destination are the colonial architecture including government buildings like the Bokassa Palace or famously known as the Presidential Palace. Bangui is also known for the Boganda Museum where ancient hunting tools, artifacts and pottery are being displayed.
Manovo-Gounda St Floris National Park
Situated near the borders of Central African Republic and Chad, this national park is one of the attractions in the country. Manovo-Gounda St Floris National Park, which is also a UNESCO World Heritage Site, showcases diverse wildlife including the western black rhinoceros that is endemic to CAR. Considered as one of the largest national parks in Central and Western Africa, this destination is covered with picturesque views of savannahs that are home to African animals such as elephants, gazelles, cheetahs and wild dogs.
Mbaiki
Mbaiki, which is a major city found in the southern part of CAR, is one of the largest cities in the country and has the best accessible road in the said African region. There are rainforests in this destination in which tourists will be able to access and explore. While locals of this city are called Pygmies, Lobaye locals also inhabit in Mbaiki. Furthermore, this Central African Republic city mainly produces timber and coffee.
Boali Waterfalls
Boali Waterfalls, which is one of the most captivating tourist attractions in Central African Republic, is found in one of the country's prefecture Ombella-M'Poko region. This destination is one of CAR's greatest treasures as the water flows down to luscious trees which creates a relaxing and dramatic scene. The water flow of Boali Falls is controlled by a dam which usually increases the water being released during Sundays, where tourists are usually at peak.
Dzanga-Ndoki National Park
Measuring more than 440 square miles, this national park has two dominant areas called Dzanga and the Ndoki portions. Dzanga-Ndoki National Park is abundant in wildlife animals and birds found in the south-west part of Central African Republic. One of the notable animals in this destination is the lowland gorillas that inhabit the national park. Dzanga-Ndoki National Park is also recognized by Important Bird Area because of its colorful species of birds with over 350 varieties.
Place de la Republique
Place de la Republique, which is one of the notable structures in Central African Republic, is situated in the capital city of the country, Bangui. The historical arch found in this destination was built in memory of the dictator named Jean-Bedel Bokassa. There are surrounding markets in this attraction in which tourists can get souvenirs and other local items.
Musee de Boganda
Musee de Boganda, which is another main landmark found in the capital of Central African Republic, is a walk down memory lane as it displays important artifacts and information about the country's history. Found in this destination are collections of CAR's rich history of music and arts. There are also various displays of pottery, jewelries, traditional weapons and sculptures made out of ivory as well as ebony.
Bouar
Bouar, which is a market town and capital of the Central African Republic's prefecture Nana-Mambere, is situated in Bangui facing Cameroon. This destination is where the French Military Base Camp Leclerc can be found, which is perched 1000m above sea level. The Bouar Megaliths that is said to have been in the city since the latter portion of the Neolithic era was enlisted in the Tentative list of UNESCO World Heritage Site in April 2006.
Kembe
Situated in Central Africa Republic's Basse-Kotto prefecture, Kembe is a simple town which displays traditional African village. This destination is also known for the Kembe Falls which is the main attraction of the town. Kembe describes the typical African village and the daily lives of the locals.