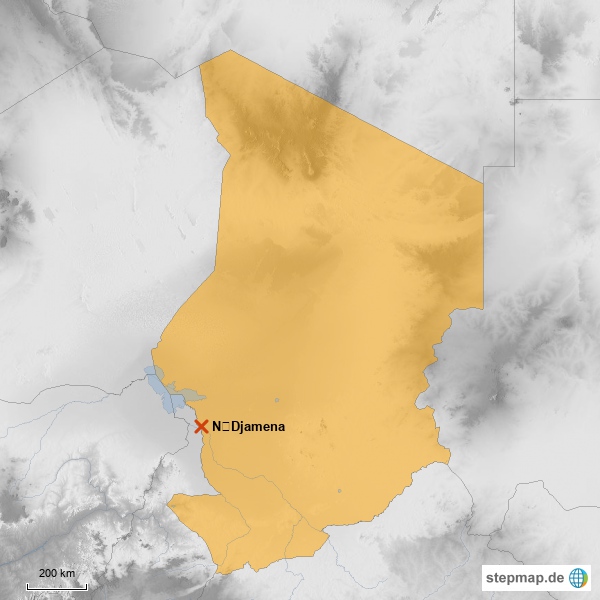 Top 10 Destinations in Chad
Experience an out of the ordinary travel vacation with Chad's amazing offer
Chad, which is officially called as the Republic of Chad, is a landlocked country bordered by Central African Republic, Nigeria, Cameroon, Libya, Niger and Sudan found in the northern part of Central Africa. There are more than 200 linguistic and ethnic tribes inhabiting Chad that are highly noticeable across the country. Most tourist attractions in this central African country are sand formations, abundant wildlife and other wonders of nature.
When travelling to Chad, travelers should prepare for a 'far from normal' travel adventure. Here are some of the popular places that tourists should visit:
N'Djamena
N'Djamena, which is the largest and the capital city of Chad, is situated between the borders of Chad and Cameroon along the Logone and Chari rivers. This destination is surrounded by mosques and other architectural structures like cathedral and historic palace. N'Djamena may not offer extravagant attractions being the capital city of Chad, but its mud-made huts and the agriculture industry adds a more authentic Chadian ambiance.
Abéché
Abéché, which is the capital of the Ouaddaï Region in Chad, is an ancient city located in the eastern part of this central African country. The main attractions in this destination are palaces, mosques and historically significant tombs of past sultans. Abéché was able to keep its old times charm, which made the city one of the most recommended places in Chad.
Zakouma National Park
Covering around 3000 square kilometers south of Chad, Zakouma National Park was the first national park in the country when it was established in 1963. This destination was once taken granted until it was restored by the European Union and made wildlife animals freely inhabit the park. Zakouma National Park is now home to various wildlife animals such as giraffes, birds, buffalos and elephants. Zakouma has encountered a huge battle in saving elephants from poachers and have successfully prevailed over and was able to breed new generations of elephants.
Lake Chad
Lake Chad, which is the largest lake in the Chad basin, plays an important role to the surrounding territories such as Cameroon, Niger, Chad and Nigeria as it provide water supply to these countries. Over the last years, there have been numerous proof that the lake has severely reduced its size. This destination is surrounded by rich flora such as Acacia, desert dates and palm trees as well as abundant fauna with hippos, cheetahs and hyenas.
Tibesti Mountains
Found in the northernmost corner of Chad, Tibesti Mountains is translated as a 'place where mountain people live' and it is one of the most visited places in the country. This destination showcases fascinating sand and rock formations that were naturally created by soil erosion. Tibesti Mountains also has abundant bird life, which makes it one of the main reasons for tourists to visit the hills.
Douguia
Douguia, which is considered as the tourism center in Chad, is found in north of the capital city N'Djamena. Famous activity in this destination is a relaxing river cruise along the Chari River where tourists will see wildlife animals like hippos and large flocks of various species of birds. Douguia is where village people are found, and along the river cruise, daily living of locals are seen by the tourists.
Ennedi
A paradise naturally molded and sculptured by time and Mother Earth, Ennedi is found in the North-East part of Chad. This destination is one of the famous landmarks in the country as canyons, landscapes and other rock formations are some of the few breathtaking attractions in the plateau. Ennedi is either called Plateau or Desert because of its dramatic sandy surroundings, wherein it offers several physical activities like rock and wall climbing.
Moundou
Situated along the Logone River, Moundou is found in the southwestern portion of Chad and is known as the second largest city in the country. This destination is famous for their beer production, in which, Gala Brewery is the top beer manufacturer in the country and it's the best beer choice. Moundou is also known as one of the main producers of cotton.
Lakes of Ounianga
A UNESCO World Heritage Site found north eastern of Chad, the Lakes of Ounianga is one of the attractions in the Sahara Desert. There are said to be 18 lakes that comprised this known destination, and each lake is named according to its surroundings like Ounianga Kébir, which means 'the great Ounianga.' Along the lakes are dramatically stunning greenery which adds more natural ambiance to the lake.
National Museum (N'Djamena)
Founded in October 1962, National Museum is located in Chad's capital city, N'Djamena and this museum is also called as the Chad National Museum or Musée National N'Djamena. There are collections of traditional musical instruments found in this destination as well as other historical artifacts, but some did not exist any longer.
Chad National Museum also displays artifacts about the Toumai Man, which was locally believed as the earliest people in the world.