Said to be the last piece of land here on Earth to have been settled in by man (the Maoris), New Zealand is now a country with some distinct features unique to its own, including its people. What New Zealand would probably be known for mostly abroad, however, is its marketing of being a "clean, green" place to be in, likely in reference to its unspoiled, verdant nature and unpolluted airs.
True enough, New Zealand is a home to some of the best places to go to if seeing nature at its truest and neatest form in addition to some of what man may add to its aesthetics as your ideals. And as such, it is a country duly recognized as a top holiday tourist destination internationally.
If you are ever thinking of going to New Zealand, likely as a result of a vacation or simply travelling, the following are the top ten places to be in during your stay in the country: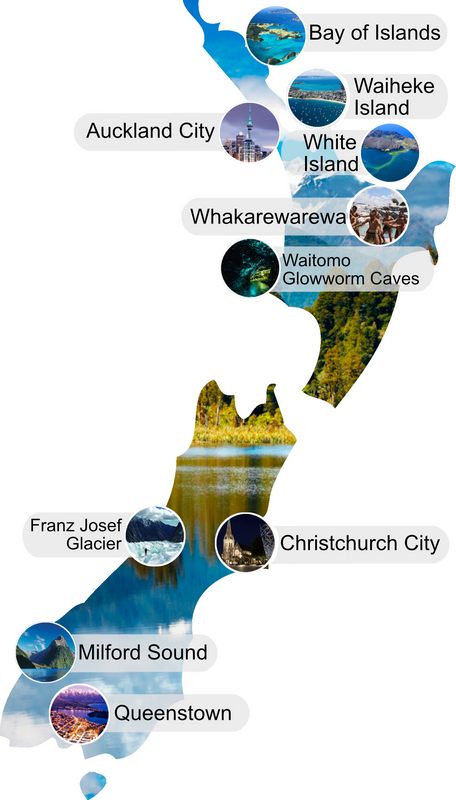 Top 10 Places to Visit If You are in New Zealand
Bay of Islands
If you are into stuffs seawater-related such as sailing, fishing, scuba diving, and other watersports, then going to the Bay of Islands first-hand may be your primary goal if ever you are in New Zealand. In just three hours of travel by car from Auckland, you will reach this beautiful region which showcases 144 islands located in between Purerua Peninsula and Cape Brett. While the place is already gorgeous on land (and seas!), nothing can be more stunning than to see the region by air.
Milford Sound
We are well aware that there are only seven natural wonders in this world. However, for someone such as Rudyard Kipling to brand a place as something that is an "eight" part of that label is something worth noticing for, mainly because it got past the number of seven and places belonging to such category are wondrous indeed. Notwithstanding, such was the case with Milford Sound in New Zealand. Said to be as a result of natural formation due to glaciers during the "Ice Age," what remains is a stunning landscape most notable for its cliffs that rose from the fjords. With a beauty so natural and epic in the making, who would think twice of labelling the place as one of the natural wonders of this world albeit unofficially?
Auckland City
Hailed as one of the top cities in the world, Auckland City is hard to miss if you are to go to New Zealand. There is even a high-chance that your first step in the country will be in it given that the city is a hub to many international flights. As what you would expect from city labelled as one of the best, Auckland City has all the features you will look for in a city such as bars, restaurants, recreations, and others more. However, we should not neglect to mention that Auckland City is also a picturesque urban region with many towering buildings at its picture.
Waiheke Island
If you are wanting to see New Zealand at its country side level, then look no further than the Waiheke Island just 30 minutes by boat from Auckland. As an island which is a home to many vineyards, Waiheke Island is the place to be for fine wines and fresh produce that gives the best possible nutrients to our bodies. However, as a tourist destination, the small island does not fail in terms of places to visit in the region.
Christchurch City
Having been up-to-date with the news, you would have probably remembered Christchurch City as a region of New Zealand which has been rocked by four heavy earthquakes in just a span of one year. As resilient a city as it is, Christchurch City has made a comeback as one of New Zealand's best tourist destination. This is probably true to those who love gardening where people can visit Christchurch Botanic Gardens which is a home to the country's oldest, largest, and tallest trees, including other horticultural displays.
White Island
It may be the most active volcano in all of New Zealand but White Island is a destination of choice by tourists who wanted to get a closer look at the active volcano itself. Climbing the volcano is not an option for tourists who wanted to get to its peak, however, there are services such as the helicopter ride of Volcanic Air Safaris which will take you to the place. Just like the volcanologists who are on top of the volcano, you, as a tourist are expected to apply precautions such as the wearing of hard hat and gas mask. The experience is intense knowing that you are standing on an active volcano, one which do not fail to excite even for a seasoned thrill-seeker.
Queenstown
If you're coming from any of the tropic region or simply anywhere where snow is just inexistent yet have the desire to experience what it feels like to be in a snow, then going to Queenstown during the winter and spring months from June to October may be the most ideal for you. More than just a place for snow, Queenstown is renowned worldwide as a ski hub. Even when not snowing there are other things to do in Queenstown, most of which may be attributed for recreation, including the Shotover Canyon Swing.
Te Whakarewarewa Geothermal Valley
Basically a Maori Heritage Center, Te Puia, which is located within Rotorua's Te Whakarewarewa Geothermal Valley is a place to be to learn of the Maori culture upfront. However, the most notable feature of the place is its many active geysers, including Pohutu, the largest of many geysers in the southern hemisphere. Another uncommon sight to the place are the mud pools whose temperature reaches boiling point.
Waitomo Glowworm Caves
Getting into the Waitomo Glowworm Caves by boat will be a unique experience for anybody given the presence of glowworms from the caves. Almost similar in comparison to a firefly, the existence of glowworms gives light to an otherwise dark places of the caves which the sun's light do not reach.
Franz Josef Glacier
If you are a thrill-seeker who likes to hike through the snowy mountains, then the Franz Josef Glacier may be the right spot for you if ever you are in New Zealand. There are some tours available solely catering for tourists about the climb: ice climbing or hiking at a relaxed pace. Just to add more options to tourists, there are also helicopter services you can avail to get to the place. Believe it or not: although there's the presence of snow in the mountain, its temperature is said to only be a few temperatures lower than the nearby town of the mountain, partly as a result of the rising sun during the day.
Come and Explore the Hidden Wonders of South Island in New Zealand and Get a Handful of Fun and Knowledge!
South Island or Te Waipounamu, which is the larger and less populous of the two main islands of New Zealand, is surrounded by Tasman Sea, Cook Strait and the Pacific Ocean. This destination is known for picturesque nature scenery and other wonders that will definitely give a world class experience to its visitors
Nelson
The second-oldest settled city in New Zealand and the oldest in South Island and was promulgated as a city in 1858. Nelson is a destination that showcases historic heritages and structures to its visitors with some touches of nature on the side. This destination in South Island New Zealand is filled with art galleries from prestigious to simplest type that will definitely teach its tourists how the natives were during the old days.
Marlborough
Famously known for its dry climate and the scenic Marlborough Sounds, this town in South Island New Zealand is perched in the northeast part of the island. Recognized as the largest wine region in New Zealand, Marlborough is also well-known as the hometown of sauvignon blanc. This destination is rich in agricultural tips and trips.
Christchurch
South Island's largest city and New Zealand's third most densely-inhabited cities, Christchurch is also known as the "Garden City." This destination may still be standing up from a major calamity it has gone through, but slowly locals are putting their selves back to their glory days. Parks, historic heritages and public places are still the main attraction in Christchurch.
Dunedin
Recognized as one of the main cities in New Zealand that plays a significant role in the country's history, culture and geography. This destination is home to New Zealand's first university that was established in 1869 – the University of Otago. Dunedin showcases architectural mixture of Victorian and Edwardian designs and not to mention the infamous Otago Peninsula.
Kaikoura
A destination in South Island that caters the best of both land and water wonders. Kaikoura is well known for whale watching and other marine life inhabitants. This destination in New Zealand is a place for nature lovers as Kaikoura can please its tourists by giving them the nature trip they want to get, like whale watching and fun water activities and mountain climbing or forest walking for some.
The Catlins
The perfect getaway from the boisterous urban life is found here in The Catlins, ideal for relaxing and unwinding. This destination attracts different marine life creatures such as penguins, seals and other sea mammals. The rough waves may also be inviting for surfers but it would be too risky. The Catlins showcases nature at its finest with all the landscapes and hidden bodies of water, such as waterfalls and springs.
Otago Peninsula
Aside from the fascinating wildlife encounters that are visible in Otago Peninsula, forest walks and biking are just some of the activities available here. This destination is ideal for tourists who enjoy coastal magnificence and marine life discoveries. Otago Peninsula in New Zealand is a perfect place for wildlife watching, historic heritages and forests trips
Abel Tasman National Park
Perched between Golden and Tasman Bays, Abel Tasman National Park is a park founded in 1942. This destination is considered as the smallest park in New Zealand. Abel Tasman National Park caters close encounter with nature as different species of birds, seals, and penguins are visible here.
Wanaka
Wanaka is a place that is ideal for skiing and is tourists' entryway to Mount Aspiring National Park. This destination is not only perfect for winter vacation but also an applicable spot during summer time. Wanaka offers picturesque forest scenery and good walks around the bushes.
Mount Cook
Bordered by the Tasman Glacier on the east and Hooker Glacier on the west, Mount Cook is a famous tourist destination. Mount Cook is said to be the highest mountain in New Zealand with a measurement of 3724 meters (officially). Mountain climbing and forest walks and trips are some of the fun activities to choose from during a trip to Mount Cook.
Explore the Vibrant Cities in North Island of New Zealand and Enjoy its Wonders!
Locally called as Te Ika-a-Maui, the North Island of New Zealand is one of the two main islands in the country. The North Island is the tinier version and the less densely inhabited island than the South Island. This destination showcases variety of historic structures and inviting works of nature.
Coromandel
A town named after the peninsula where gold mining and kauri industries serve as the main source of living in this region in New Zealand. Coromandel is within the Coromandel Harbour which is the major port that delivers products from the Coromandel Peninsula to anywhere in the area. Beaches, forests and other wonders of nature are some of the few main attractions in this destination.
Napier
The capital of the largest wool center in the Southern Hemisphere and Napier is within the principal seaport for export of the northeastern part of New Zealand. Aside from agricultural products that were mostly grown in this destination, Napier displays extensive compilation of deco buildings and inner-city art in the world. Popularly acknowledged as the Art Deco City, this destination is also one of the most inviting spots in New Zealand.
Rotorua
Known for its thermal springs and attractive mud pools, Rotorua is a destination that has been the most visited towns in New Zealand. This destination is where tourist will be able to experience the 30 meter geothermal hot spring. Most inhabitants in Rotorua are Maori, whom tourists can ask about the rich history of the town and learn how natives do for living.
Wellington
The center of almost every happenings being the capital city of New Zealand, Wellington has the most population as well. This destination may be an urban area, but the best way to enjoy its sights and wonders is by taking a good walk. Wellington displays variety of cafés, galleries, historic structures and several coast line attractions.
Tongariro National Park
North Island in New Zealand is home to their oldest national park – the Tongariro National Park. Listed as a UNESCO World Heritage site, this destination showcases different wonders of nature such as volcanoes, lakes and hot springs. Aside from the picturesque nature view, Tongariro National Park plays a significant role in Maori's spiritual beliefs.
Auckland Museum
Auckland Museum is one of the most significant museums in the country as it houses important collections of war memorials and artifacts of New Zealand's rich history.
This destination displays the flora and fauna of New Zealand as well as exhibits of the aesthetic heritage of the people from the Pacific region.
Mount Maunganui
Infamous for its safe to surf beaches and resorts, Mount Maunganui is a town in the North Island of New Zealand that caters tropical attraction. This destination is a perfect getaway not only for the family but it also caters romantic ambiance that is ideal for couples and nature tripping that is just right for group vacations.
Mount Taranaki
A volcano that appears to be created absolutely, Mount Taranaki is a 120-year-old volcano that became one of the most visited sites in New Zealand. This destination is considered by experts as a dormant volcano and tagged as the most climbed mountain in New Zealand. Mount Taranaki is located within Egmont National Park in North Island New Zealand.
Taupo
Surrounded by the beautiful shore lines of Lake Taupo, known to be as New Zealand's largest lake, Taupo is a town at the center of North Island. This destination showcases famous resorts and thrilling water adventures like whitewater rafting, fishing and jet boating. Aside from water sports activities, trips to nature's wonders are also available in this destination like biking, mountain climbing and forest walking.
Hamilton
One of the fastest growing economies in North Island New Zealand, Hamilton seems to get the attention of nomads recently. This destination encourages tourists' with its mix of urban and rural living. Hamilton is also bordered by beauty of nature with its trees and forests; it also has the feel of being in a contemporary city.